Get an Online Doctor Visit
Anywhere & Everywhere
Revolutionizing healthcare – Manhattan Medical Arts provides modernized virtual medical services. Our streamlined, secure, and high-quality digital healthcare services offered via online doctor visit enables all our patients to easily and effectively manage their medical needs from the convenience of their homes.
We facilitate all our patients by digitally bringing our leading physicians all the way to you, wherever you may be located; while also accommodating your preferred schedule and your specific healthcare needs.
At MMA, our objective is to provide world class healthcare services in the most convenient way possible, while also ensuring to offer a seamless, comfortable, and personalized experience. We have been successful in materializing this objective by establishing and providing unparalleled virtual healthcare.
Eliminate Risk & Exposure | Avoid Traveling | No More Waiting
Virtual Healthcare At Your Fingertips
Leveraging the comfort and facilities of the digtal world – Manhattan Medical Arts has expanded to provide virtual healthcare services, with an aim to efficiently offer the best primary care services in the most convenient way possible. Our board-certified physicians are now just a click away – with a laptop, smartphone, or tablet offering an all-access to our medical facility, from anywhere in the world.
A busy daily schedule, inconvenience of traveling back & forth, or the recently experienced times of global pandemic makes it quite challenging to have an in-person visit to our medial practice – However, with MMA you have the best healthcare services at your fingertips, with the convenience of an online doctor visit that can be instantly scheduled with a single-touch, from any part of the world. Schedule a virtual appointment today, and have our expert physicians take care of you.
Benefits Of Our Exceptional Virtual Healthcare
Easy & instant access to healthcare, wherever you may be
Cost effective
100% secure, confidential, and HIPAA compliant
Convenient care, as per your preferred schedule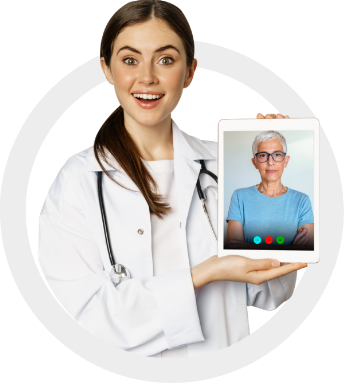 Available 24/7
Prompt online prescriptions & refills
Timely + accessible healthcare, both preventive & ongoing
Expert & experienced physicians
Extensive assessments to designate the right physician
Televisit Covered By Major Insurances
At MMA, we not only save lives but simplify them as well – Facilitating our patients by offering to accept majority of the insurance plans. Some of the insurances include:
3 Easy Steps For An Online Doctor Visit
Instantly schedule your online doctor appointment via Zebra Doctor – Enabling a hassle-free booking for a same-day appointment from any location.
Once the appointment is confirmed, you will then receive confirmation details along with a link to have you connected with our physician at the scheduled time.
Once the virtual doctor visit concludes, you can easily pick up your prescribed online medications (if any) from your nearest local pharmacy.
Opting for our online doctor visits can help you save money as well – costing you much less, compared to a walk-in visit to our medical practice for urgent care. While the exact charges may vary and depend on your healthcare needs, plan's details, and in some cases i.e. Psychology, the duration of your visit – The standard televisit charges are $100 for both, new & follow-up patients.
Latest Blog Posts
Helping You Reach The Best Of You
December 1st, 2023

Can Acid Reflux Cause Back Pain?

November 29th, 2023

Fast-Lane To Wellness: Discover How To Get Over The Flu Fast

November 27th, 2023

Burning Sensation in Nose Explained