The American Healthcare System defies the whole essence behind the "Health Doesn't Have to be Costly" cliche. While posing as your caregiver during an illness, it goes behind your back only to stab you with expensive hospital bills – not to mention, the constant butting-in of your intrusive insurance company.
Given the healthcare crisis, a major contender, Direct Primary Care entered the system with the aim to leave third parties – in this case, the insurance companies out of the patient-doctor relationship. 
But, what exactly is Direct Primary Care? And why is it driving patients away from conventional insurance-driven primary care?
Solving The Price Problem
Healthcare in the United States is becoming increasingly expensive day by day, and perhaps, leading its preventive course to extinction; while doctors are busy tending to patients back and forth, insurance companies feel entitled to overcharge already costly copays, deductibles, and premiums in order to empty out your bank balance. 
Direct Primary Care is revolutionary and slowly becoming all the rage today and with good reason. The DPC model reinforces the patient-first approach in a doctor-patient relationship by offering a subscription-based membership model for pre-defined primary care procedures and treatments at a fixed price every month. 
Health Insurance is a savior – yes, but rather than in primary care, it is more suitable for playing a vital role in emergencies and life-threatening situations.  For access to basic primary care, there is absolutely no justifiable reason to pay huge premiums month after month, only to receive a costly prescription of generic drugs. 
DPC's cost-effective model allows you to receive medical aid – whether they are antibiotics for your sore throat or an ultrasound imaging preemptive for diagnosis. 
Business Insider covered two DPC members who raved about the amount of money they saved on prescriptions by going to their trustworthy DPC providers. From a patient who saved a whopping $100 by receiving a generic prescription of steroids and antibiotics for $6 in Idaho to the patient who spent $20 on a sixth-month supply of their prescribed medication instead of the usual $120, DPC has nothing but appreciation in its favor. 
According to the Kaiser Family Foundation, annual premiums on average ranged from $7,911 for individual coverage to $22, 463 for family coverage in October 2022. Who knows how much it cost an average, salaried worker after including their copays and deductibles as well?
No More Inconvenient Visits to your GP
Visiting your primary care physician for a simple check-up requires you to make an appointment, sometimes, weeks in advance. Or in order to get urgent care, non-emergency patients visit the ER just to get an assessment for an answer to their query. Sore throat with pain and pus oozing from the external? A non-emergency situation, yes, but a trip to the ER for a consultation is easier, time-saving, and much more convenient for the patient instead of waiting for their next appointment. 
This situation creates an unnecessary influx of healthy patients in the accident and emergencies that could be treated and managed routinely at the GPs. Not only is this behavior careless, but also deprives the patients who're dealing with life-threatening situations of necessary and urgent therapeutic care. 
As the situation can be unpleasant for both emergency and non-emergency patients, many would resort to Dr. Google, who despite being a quack in the field, offers a personalized approach and listens to your queries more coherently (and, some) than the average overworked doctor. 
In an episode on The Good Doctor S1, a kid self-diagnosed himself to be suffering from Osteosarcoma which matched his diagnosis!  On the 0ther hand, another patient in S3, a mom, self-treated herself with a home human fecal microbiota transfer after watching an influencer on TikTok. Ultimately, it led to bowel perforation. 
Google is not your friend, and being doctors, we get distressed and frustrated at patients self-diagnosing themselves at home. But, people might consider it to be the lesser of two evils when considering if they should or shouldn't bother about booking a GP appointment as there are fewer chances of being heard asap. 
But, can it be helped? Isn't the healthcare system and its wavering fees to blame? 
DPC's two cents? Your doctor is present at your beck and call, and if not, you can make a same-day appointment to skip the wait for any urgent matters. Most DPC providers offer an app for an easy mode of communication with your doctor, where you can text, call or even video chat with your doctor for their input. 
Bankrate reported a 65% drop in visits to accidents and emergencies in 2016 to at least a decrease in hospitalizations by 35%.
How does it Solve the Rushed Doctor Problem?
In primary care, doctors are vamped with patients who are bellowing with their high-pitched voices just to ensure they are heard. But, doctors are tired and overworked. They might look unbothered, dismissive, and ignorant, but in fact, it is the system to blame. The healthcare system piles on consultations after consultations to be seen in a fixed time, as well as aimless insurance paperwork to fill out without considering the doctor's mental and physical well-being.
Doctors in DPC work with a specific number of patients that they follow up regularly. Since there is no insurance company or intermediary involved here, doctors can pay undivided attention to their patients and listen to their problems without time being a priming factor. Given that each doctor in DPC has a limited influx of patients, the physician can take their time to truly understand and diagnose the patient's ailments, as well as escape saturation.
DPC in a Nutshell
Over 1150 primary care practices in the U.S. have already adapted to Direct Primary Care, which led them to reopen the door to healing for their patients. 
One of the leverages of working with a subscription-based membership model is that the fees and charges are not only fixed but also out in the open for fair consultation. Consider the subscription plans offered by the DPC clinic at Manhattan Medical Arts shown below.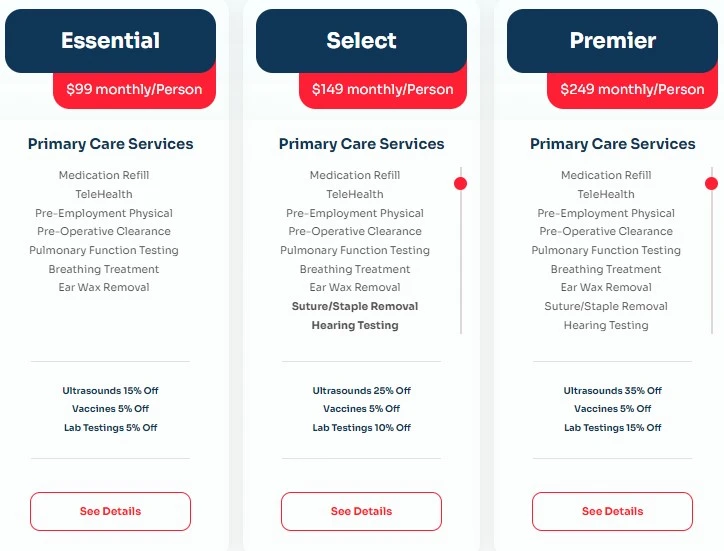 – Disclaimer –
This blog is for informational & educational purposes only, and does not intend to substitute any professional medical advice or consultation. For any health related concerns, please consult with your physician, or call 911.
If you want to learn more about Primary Direct Care then read these blog posts: Why choose membership-based Direct Primary Care? | Direct Primary Care: solving health insurance affordability issues | Here's Why DPC Healthcare Services should be your first choice | Understanding Direct Primary Care: Overview Of DPC Practice
About The Author

Dr. Syra Hanif M.D.

Board Certified Primary Care Physician
Dr. Syra Hanif is a board-certified Primary Care Physician (PCP) dedicated to providing compassionate, patient-centered healthcare.
Read More